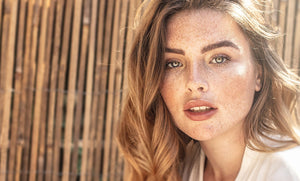 Your skin type is: Mature skin
Everyone gets mature skin in the course of their lives. Some sooner, others later. Many different factors determine when your skin will start to show the first signs of ageing. These could include your genes and hormones as well as your lifestyle and diet. And, of course, the way you deal with the sun's rays. Mature skin has wrinkles and lines and gradually slackens as it loses hyaluronan and collagen. Mature skin can be supplied with external active ingredients to restore smoothness and plumpness, e.g. in the form of spilanthol, retinol or hyaluronic acid.
Characteristics of mature skin
rougher, drier skin with fine lines and wrinkles
increased UV sensitivity
poorly healing wounds and susceptibility to infection
The loss of elasticity leads to damage more quickly and the skin starts to develop wrinkles. The skin gets thinner and duller. It loses the rosy freshness associated with youthful skin. Thinning skin, deeper wrinkles and sunken cheeks. Poorly healing wounds.