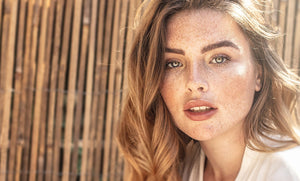 Your skin type is: Oily skin.
Oily skin tends to produce more sebum and sweat, which makes it shiny and increases pore size. It often leads to unwanted blackheads, which unfortunately can also develop into acne. Oily skin is more resilient but still needs sufficient care. It is important that skin care is not too heavy and rich.
DISCOVER SUITABLE PRODUCTS
Characteristics of oily skin
enlarged, clearly visible pores
oily sheen
thicker, pale skin: blood vessels may not be visible
Oily skin is prone to comedones (blackheads) and different forms of acne. With mild acne, a large number of comedones appear on the face and often also on the neck, the shoulders, the back and chest area. In moderate or severe cases, the skin may break out in papules (small nodules without a visible plug) and pustules (medium-sized, whitish yellow bumps with pus) and the skin is red and inflamed.