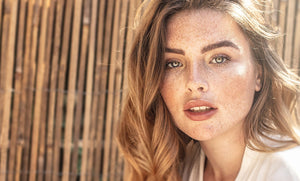 Skin type: Sensitive skin
Your skin type is: Sensitive skin
Symptoms of sensitive skin mainly include redness, flaking, itching, and a sense of burning or tightness. Likewise, sensitive skin can quickly develop rashes with pustules, papules or swelling. Sensitive skin tends to react to external stimuli and environmental influences very quickly and often rather strongly. These include, for example, cold, heat, irritating ingredients in cosmetics, sunlight or environmental pollution. Redness and a burning sensation occur after a hot bath, for example, or after using facial cleansers that are too aggressive. People with sensitive skin tend to have a fair complexion that is prone to sunburn.
DISCOVER SUITABLE PRODUCTS
Characteristics of sensitive skin
fine scales, redness, rash, swelling
flaking and roughness
feelings of tightness, burning, itching and tingling
These indications can appear anywhere on the face. There are some similarities to other skin conditions, particularly to indications of dehydration.