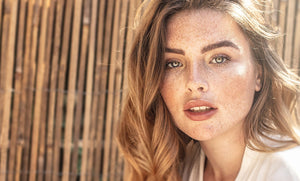 Your skin type is: Dry skin
Dry skin is also referred to as a low-lipid, dry condition or sebostasis. It also belongs to the category of problem skin, sensitive or delicate skin. Your skin doesn't produce enough sebum. Severely reduced sebum production causes instability in the protective hydrolipidic film of your skin, since it lacks water-binding sebum. The dry skin is often fine-pored, thin, scaly and sometimes rough. Dry skin needs nourishing skin care to balance out the lack of sebum.
DISCOVER SUITABLE PRODUCTS
Characteristics of dry skin
slightly flaky in places
visibly rough and blotchy (sometimes the skin appears prematurely aged)
feeling of tightness, possibly also itching
Dry skin reacts more quickly with irritations and redness; it is also at higher risk of infection.